If you have a Homeowners Insurance Policy then look if it covers flood insurance. If it does not then consider applying for flood insurance as an additional cover insurance. Geico offers flood insurance however there is a waiting period of 30 days to ensure that fraud does not occur.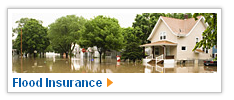 The 30 day rule is to avoid people taking last minute flood insurance when they know that a flood is coming and want to do a short cover on their insurance needs. This is why you have a 30 waiting period for flood insurance. When buying a new house most times the insurance companies overlook the 30 day waiting period if it is part of the mortgage bond.
Flood insurance covers the structure from flood damage however please note that regular water damage and flood damage can be separate and normally is. Say a pipe bursts in your house and create water damage then that will not be cover by flood damage normally. Speak to your insurance agent for more information.
Note that flood policies are a once off payment policy as there is no monthly payment optiions. Normally this is rolled into the bank loan when you buy your house. Again check what insurance you have and what needs to be covered.
Why Geico Flood Insurance?
Backed by the Federal government
Most homeowners policies will not cover flood damage
Rates tailored to your specific area
Protect your home from flood damage
Call 1-800-841-2964 for your free rate quote!