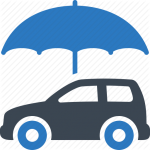 See the Car Insurance in Colorado and the Colorado driver laws. You might want to speak to an agent for auto insurance in Colorado as you will need to be able to prove that your car is fully insurance. If you cannot show that the car has been insured to the minimum value as dictated by the State then you can be fined for this. Always ensure that you have Colorado car insurance when you drive in the Centennial State.
Car Insurance in Colorado
When you register your car at the Colorado Bureau of Motor Vehicles you must show that your car has insurance. If you are also stopped by police you need to show

your insurance. Failure to do this can result in a $500 fine or end with suspended licenses and community service hours. Always ensure that you have proper auto insurance.
Note that there are Ski rack laws in Colorado. This involves vehicle height as well as driver visibility. When tied you are not allowed to have visual obstruction. Also note that the ski rack on top of the car is not allowed to be higher than the state's maximum allowable height of 13 feet. Failure to comply will result in fines. Likewise see the Connecticut car insurance.
Colorado Auto Insurance Required Coverage
You will note that this is the minimum requirements for mandatory insurance in the State of Colorado. It is always best to take more insurance than the minimum in the event of an accident and the cost is more than the minimum requirement. Speak to an insurance agent about this.
Bodily Injury: $25,000 per person, $50,000 per accident
Property Damage: $15,000 per accident
Uninsured Motorist: $25,000 per person, $50,000 per accident*
Medical Payments: $5,000 per accident*
*Uninsured Motorist and Medical Payments can be rejected by signing an option form.
Always ensure that you have the minimum requirements. Most auto insurance sold tends to be higher than the minimum requirements. Many also take out additional liability insurance in the event of an accident as your legal defense is normally paid for after an accident.
Colorado Driver Laws
You can start the process at the age of 15 and 6 months. You will need to complete a 30-hour driver's education course first even before  you can apply for a learner's permit. There is a legal minimum age of 15. Note that a permit holder who has 50 hours of drive time as completed a 6 hour training course behind the wheel and who have had their permit for at least 12 months can apply for a drivers license.
Note however that should you start or apply at age 16 or 17 then there are no prior driver's education requirements when you are at this age and you can apply for a learner's permit.
Finally you will note that the first year of licensed driving is going to be prohibited between midnight and 5 am. According to Colorado driver laws, unless you are accompanied by a legal guardian. Note that auto insurance for younger people tend to attract higher premiums. Teen auto insurance can normally be lowered by buying a cheaper car and having a clean drivers record. You can also increase your deductible. See also How can I make car insurance lower.
Always speak to a qualified insurance agent for more information if you are taking out car insurance in Denver of Fort Collins in Colorado. See also the Colorado DMV on here as well as the Colorado Public Liability Insurance.